Focus on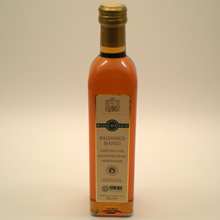 A bittersweet balsamic condiment, fresh and delicate on the palate. This condiment is 100% organic; made with wine vinegar using white grapes and concentrated grape must, and produced under the strict standards established by the Italian Ministry of Agriculture and the European Union and overseen by the I.C.E.A. - Ethical and Environmental Certification Institute.
[read all]

Scaloppine all'Aceto Balsamico Tradizionale di Modena "Italo"
Pound thin slices of pork tenderloin according to the number of the guests to be served. Put the same quantity of oil and butter in a pan and put on the fire. As soon as it sizzles...
[read all]

Modena, the birthplace of Enzo Ferrari, has a strong connection with sports cars for a long time. Dream cars like Ferrari and Maserati are built here and since the beginning of the twentieth century, Modena has been an important stage for car racing.
[read all]