Focus on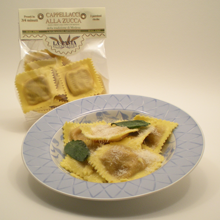 The softness and balance of Pedroni's Balsamic Vineger of Modena "VECCHIO" arise from the skilled mixing of wine vinegar with a classic cooked must from their own grown grapes.
[read all]

Farmer's Breakfast
Cut some pancetta and a white onion into thin slices: but not too thin. Brown in a frying pan with no more than two table spoons of butter...
[read all]

Like all Italian cities Modena has a Patron Saint: San Geminiano...
[read all]