Focus on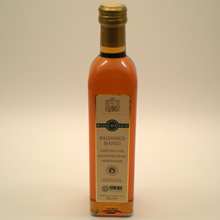 A bittersweet balsamic condiment, fresh and delicate on the palate. This condiment is 100% organic; made with wine vinegar using white grapes and concentrated grape must, and produced under the strict standards established by the Italian Ministry of Agriculture and the European Union and overseen by the I.C.E.A. - Ethical and Environmental Certification Institute.
[read all]

Buttered Spinach with Parmigiano Reggiano
Wash the spinach and place in a pot with salted water, cover and let cook over medium heat for no more then 5 minutes...
[read all]

Like all Italian cities Modena has a Patron Saint: San Geminiano...
[read all]