Focus on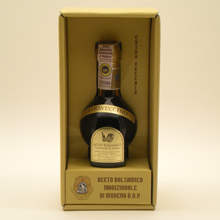 Paolo Rustichelli's Extravecchio is made using the antique tradition of cooked, acidified grape must, aged for many years in barrels of descending sizes from different types of wood (oak, cherry, ash, chestnut, juniper, mulberry). The vinegar rests in barrels for over 25 years, and thanks to Paolo Rustichelli's patient care and experience, the product reaches its final goal of an excellent extra old balsamic vinegar with a perfect balance of sweet and sour.
[read all]

Tuna, Bean and Onion Salad
Boil the beans with the garlic and sage. Drain and let cool. In a bowl, mix the beans with...
[read all]

The Cathedral of Modena is one of the greatest masterpieces of the European Romanesque period made famous for its architecture under the direction of architect Lanfranco and for the notable sculptures of Wiligelmo.
[read all]