Focus on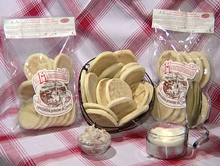 Delicious disk-shaped bread handmade according to Modena Apennine tradition using simple, natural ingredients and no preservatives.
[read all]

Garden Salsa
Wash and cut vegetables in coarse pieces. In a sauce pan, boil the vegetables with water, "Sapore di Modena", salt and sugar until the water has completely evaporated...
[read all]

Like all Italian cities Modena has a Patron Saint: San Geminiano...
[read all]