Focus on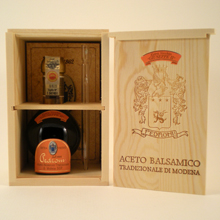 The Aceto Balsamico Tradizionale "GIUSEPPE II" is an extra old balsamic vinegar which strictly abides to the teachings of the family founder Giuseppe I who settled in Rubbiara in 1862.
[read all]

Pork Scallopine with "Sapore di Modena"
Carefully cut the pork into small slices of about 40g. Flatten and flower. Grease a large skillet with a thin layer of olive oil and arrange the slices of pork without overlapping them and lightly salt...
[read all]

Modena, the birthplace of Enzo Ferrari, has a strong connection with sports cars for a long time. Dream cars like Ferrari and Maserati are built here and since the beginning of the twentieth century, Modena has been an important stage for car racing.
[read all]