Focus on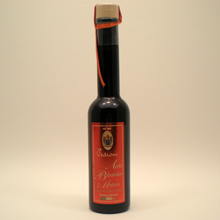 The softness and balance of Pedroni's Balsamic Vineger of Modena "VECCHIO" arise from the skilled mixing of wine vinegar with a classic cooked must from their own grown grapes.
[read all]

Panna Cotta with "Balsameda" Aceto Balsamico Jelly
Heat the cream while mixing in the sugar. When it starts to boil, remove from heat and let cool...
[read all]

Like all Italian cities Modena has a Patron Saint: San Geminiano...
[read all]