Focus on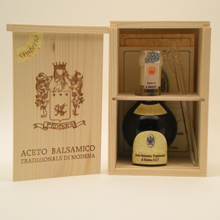 For over 12 years, the Traditional Balsamic Vinegar of Modena "UMBERTO" is aged in barrels made from oak and juniper which give this product its distinguished, lively and spicy fragrances.
[read all]

Zampone and Potato Risotto with Cream of Borlotto Beans and "Aria al Rosmarino" (Rose Mary Garnish)
Mince scallion and place in a saucepan with a Tbsp of butter and brown with the zampone...
[read all]

Modena, the birthplace of Enzo Ferrari, has a strong connection with sports cars for a long time. Dream cars like Ferrari and Maserati are built here and since the beginning of the twentieth century, Modena has been an important stage for car racing.
[read all]