Focus on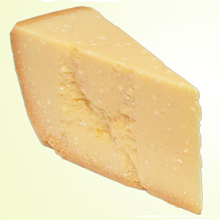 This certified organic Parmigiano Reggiano DOP (Protected Designation of Origin) is aged for at least 20 months. At first bite the palate is met with a sharp, distinct flavor which then tranforms into a sweet, creamy sensation.
[read all]

Zampone and Potato Risotto with Cream of Borlotto Beans and "Aria al Rosmarino" (Rose Mary Garnish)
Mince scallion and place in a saucepan with a Tbsp of butter and brown with the zampone...
[read all]

Modena, the birthplace of Enzo Ferrari, has a strong connection with sports cars for a long time. Dream cars like Ferrari and Maserati are built here and since the beginning of the twentieth century, Modena has been an important stage for car racing.
[read all]