Focus on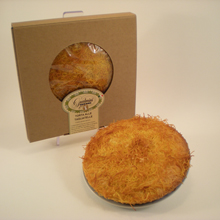 A typical Modenese artisan cake made with wheat flour, sugar, sunflower oil, almonds, tagliatelle noodles (they are usually eaten as pasta dish!) and eggs.
[read all]

Salmon Antipasto al "Sapore di Modena"
Place the slices of salmon on a serving dish without overlapping them. With a brush, lightly glaze the salmon using Rustichelli's "Sapore di Modena"...
[read all]

The Cathedral of Modena is one of the greatest masterpieces of the European Romanesque period made famous for its architecture under the direction of architect Lanfranco and for the notable sculptures of Wiligelmo.
[read all]