Focus on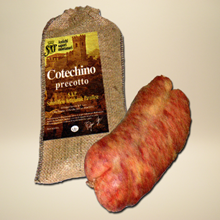 Considered the father of Zampone, "Cotechino" is prepared the same way using lean cuts of pork and rind, ground and mixed with spices. The difference is that the ground meat is stuffed in a sausage casing instead of being stuffed in the skin of the pig's foreleg as with Zampone.
[read all]

Panna Cotta with "Balsameda" Aceto Balsamico Jelly
Heat the cream while mixing in the sugar. When it starts to boil, remove from heat and let cool...
[read all]

Like all Italian cities Modena has a Patron Saint: San Geminiano...
[read all]