Focus on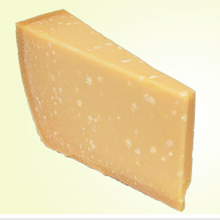 This certified organic Parmigiano Reggiano DOP (Protected Designation of Origin) is aged for at least 30 months. Due to the long maturing process, this cheese is characterized by its non-acidic flavor and its dry, crumbly texture and intense wheat color with whitish specks indicating the presence of milk protein.
[read all]

Cream Sauce using Paolo Rustichelli's "Vecchio" Traditional Balsamic Vinegar of Modena (ABTM)
Put the Parmigiano Reggiano and Paolo Rustichelli's "Vecchio" ABTM in a bowl. Place the bowl in a pan with water simulating the bain-marie method...
[read all]

Modena, the birthplace of Enzo Ferrari, has a strong connection with sports cars for a long time. Dream cars like Ferrari and Maserati are built here and since the beginning of the twentieth century, Modena has been an important stage for car racing.
[read all]