Focus on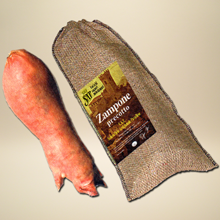 "Zampone" is a product deeply rooted in Modena's culinary tradition. It is prepared using lean cuts of pork and rind. The meat is ground together and mixed with salt, pepper and various spices such as mace, cinnamon, cloves and ginger. The entire mixture is then stuffed into the skin of the pig's foreleg.
[read all]

Risotto with Aceto Balsamico Tradizionale di Modena "Italo"
Brown the onion in half the butter, add the rice and toast for a few minutes. Add the wine and allow to boil off...
[read all]

Modena, the birthplace of Enzo Ferrari, has a strong connection with sports cars for a long time. Dream cars like Ferrari and Maserati are built here and since the beginning of the twentieth century, Modena has been an important stage for car racing.
[read all]