Focus on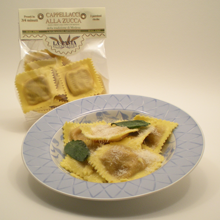 Made with the finest ingredients using the traditional recipe of Modena.
Fresh pasta made with soft and hard wheat flour and fresh eggs. Filled with pumpkin and Parmigiano Reggiano.
[read all]

Calf's Liver with Raisins
Brown and cook the liver slices in butter keeping them soft. Add the raisins, tomato sauce, Port and Cognac...
[read all]

Like all Italian cities Modena has a Patron Saint: San Geminiano...
[read all]