Bensone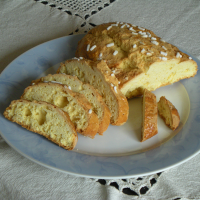 Desserts
Ingredients:
Serves 4:
800g (28oz) flour
150g (5.25oz) butter
1 lemon
1/2 C milk
200g (7oz) sugar
4 eggs
16g (1Tbsp) pastry yeast
Salt
Preparation:
Melt the butter and mix with the flour, eggs, sugar, a pinch of salt, the pastry yeast, milk and the grated lemon peel making sure not to grade the inner white part. Mix for a little over 10 minutes until the dough is smooth and soft. Knead well, wrap in a floured cloth and allow to rest for 30 minutes.
Form the dough in the traditional loaf shape and make an incision lengthwise so that during baking the bensone can "flourish".
Preheat the oven at 150 °C (300 °F). Place the bensone on a greased baking pan and brush with a little egg yolk and sprinkle with coarse sugar. Put in oven and start out baking at 150 °C (300 °F) for 10 minutes then at 200 °C (400 °F) for another 20 minutes.
Substituting 1/3 of the flour with potato starch will make the bensone softer.