Stewed Beans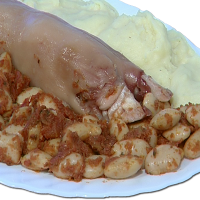 Side Dishes
Ingredients:
Serves 4:
300g (11oz) white Spanish beans or butter beans
70g (2.5oz) pancetta
70g (â…" C) extra virgin olive oil
1 handful of parsley
900g (4C) tomato sauce
70g (2.5oz) onion
1 garlic clove
Salt and pepper (to taste)
Preparation:
Soak beans in water overnight (at least 12 hours), drain and cook in unsalted water. Mince the garlic, onion, pancetta and parsley and sautè with oil. After five minutes add the tomato sauce, salt and pepper. Cook for 10 more minutes then mix with the beans in a terra cotta cooking pot and continue to cook for another 20 minutes.
This side dish is typically served with zampone and cotechino. It also makes an excellent side dish with sausage and pork ribs.
try this recipe with these products