Pinzimonio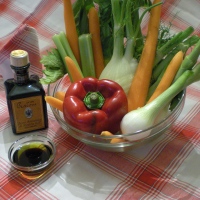 Appetizers
Ingredients:
Serves 6:
300g (11oz) green onions or scallions
300g (11oz) fennel
200g (7oz) carrots
200g (7oz) radishes
300g (11oz) celery
olive oil
salt
Aceto Balsamico di Modena
Preparation:
Clean and wash the vegetables and break the celery and fennel from their stalks.
Place in a bowl and serve. Give each guest a small bowl where they can pour a small amount of olive oil, a splash of balsamic vinegar and a pinch of salt for dipping the vegetables in.
try this recipe with these products