Pumpkin Risotto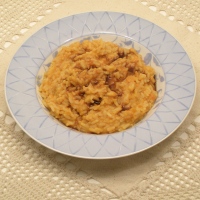 First Course
Ingredients:
Serves 4:
350g (12oz) fresh pumpkin
350g (12oz) rice
70g (2.5oz) grated Parmigiano Reggiano age 24 or 36 months
120g (4oz) butter
1 cup of dry white wine
1 onion
1 rosemary branch
1,25L (5⅓ C) broth
salt (to taste)
1 bullion cube
Traditional Balsamic Vinegar of Modena
Preparation:
Peal the pumpkin and cut into tiny cubes. Mince the onion and place in a pan with the rosemary and half the butter. Sautè over medium heat, then add the pumpkin and sautè for a few minutes. Add some broth and let cook over medium heat for about 10 minutes. Remove the rosemary and add the rice, bullion cube and wine. Mix and allow the wine to cook out. Add broth little by little when necessary to keep the rice moist. Cook until the rice becomes al dente. Add the rest of the butter and Parmigiano Reggiano and salt to taste. Serve on separate plates with a few drops of Traditional Balsamic Vinegar of Modena.
try this recipe with these products